5 Healthy and Delicious Holiday Swaps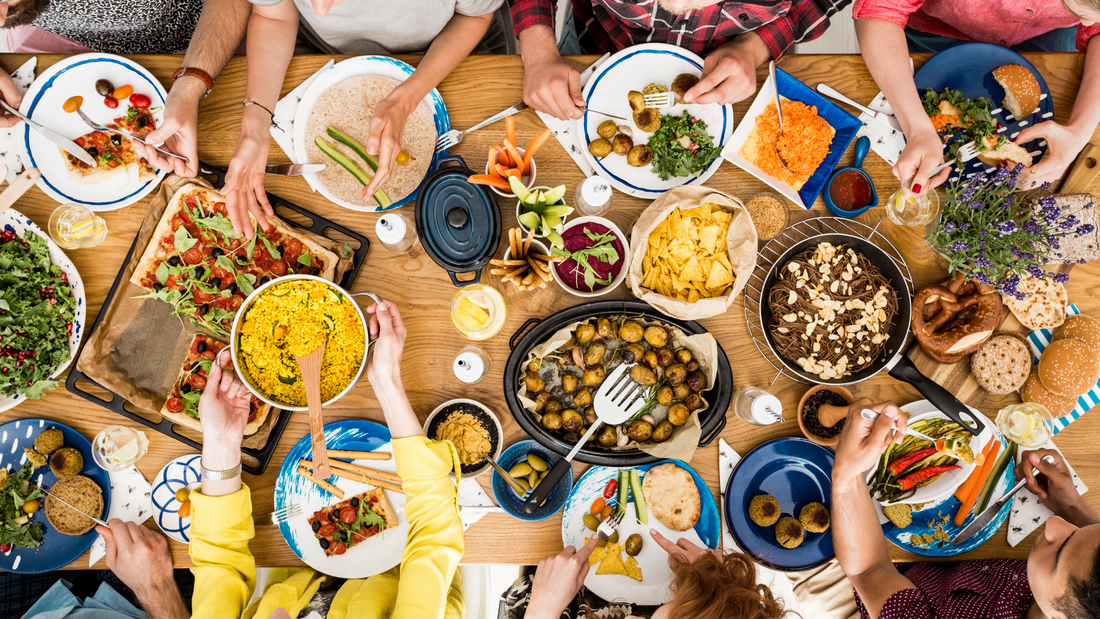 An easy guide to giving the gift of health this Christmas without sacrificing flavor.
Christmas is a time of family, charity, exchanging gifts and good food. But could it also be a time for better health? 
As we gather around our tables this Christmas, let's reimagine our holiday traditions. Instead of eating to excess and waiting for January 1 to "get healthy," why not start today?
Now, I don't mean a complete overhaul. We don't want to scare Grandpa away!
Instead, replace one traditional dish this season with its plant-based counterpart and know you are giving your family and friends the gift of health. 
We've compiled a list of 5 plant-based dishes that are sure to wow your guests and add some excitement to your holiday feast.
1. Swap your russet potato for a sweet potato
[Source: Monkey and Me Kitchen Adventures]
Did you know sweet potatoes are lower on the glycemic index, meaning that they are less likely than regular potatoes to make your blood sugar spike? Great for any diabetic relatives, this simple dish will do well as an appetizer or a side. You can choose to simply bake a sweet potato or if you're feeling more adventurous, check out this recipe!
Glazed Pecan Sweet Potato Rounds
2. Casserole vs. Shepherd's Pie
[Source: Monkey and Me Kitchen Adventures]
Instead of making a casserole laden with saturated fat, high sodium and the works, try out this simple yet tasty Lentil Shepherd's Pie. Offering the same hearty feel as your more traditional casserole, this pie is full of protein and bursting with flavor.
P.S.  Half a cup of cooked lentils has 12 grams of protein!
3. Hop on the plant-based gravy train
[Source: Monkey and Me Kitchen Adventures]
What does gravy go on? Well, everything really. That is why it's so important to include gravy that has the perfect consistency and flavor that will compliment every dish. Below is a gravy recipe that will take your gravy train to the next station. The best part? It is loaded with antioxidants and key nutrients to keep your family feeling great.
Sniffles anyone? The anti-inflammatory effect of mushrooms has been shown to greatly improve the efficiency of the immune system. Let's spread immunity, not germs!
4. "Dead" Green Beans vs. Savory Asparagus
[Source: Forks Over Knives]
Put those sad green beans away. Here we have a unique way to add some crunch to your veggies. This Herb Crusted Baked Asparagus is crunchy on the outside and firm on the inside with a delightful flavor everyone will enjoy. 
Guess what else? Asparagus is high in folate and vitamin K!
5. Save Wilbur for another time
[Source: Forks Over Knives]
This is it, the main course. While traditionally a turkey or a ham, we challenge you to imagine something greater. This BBQ Bean Casserole Cornbread Bake is a unique, savory, protein-packed entree with an exceptional balance of flavors and textures.
BBQ Bean Casserole Cornbread Bake
Beans are a great choice for diabetics AND contain antioxidants that are shown to reduce signs of aging! 
We hope this list has inspired you to think outside the box this holiday season and treat your family to a whole new world of plant-based deliciousness. There are so many recipes out there to choose from and we encourage you to explore and create until you find what works for you. 
Above all else we wish you and yours the best health possible and a very merry Christmas!