How it Works
Every meal you replace with 100% whole food, plant-based is a win.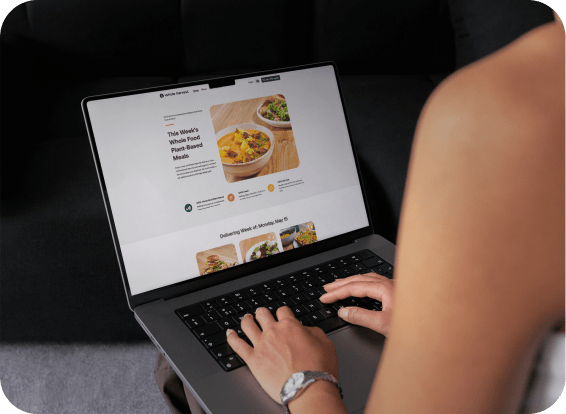 1. Place Your Order
Build your own customized box of grain bowls, comfort foods, and snacks. We ship it to you fresh and ready to eat.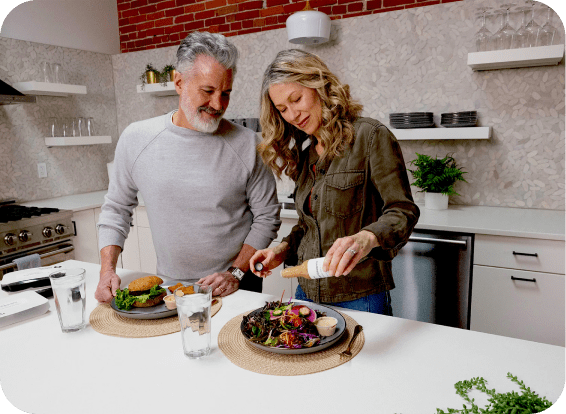 2. Eat Delicious Food
Whether you're discovering new recipes or revisiting favorites, you'll fill lunch or dinner with rich, rewarding flavors.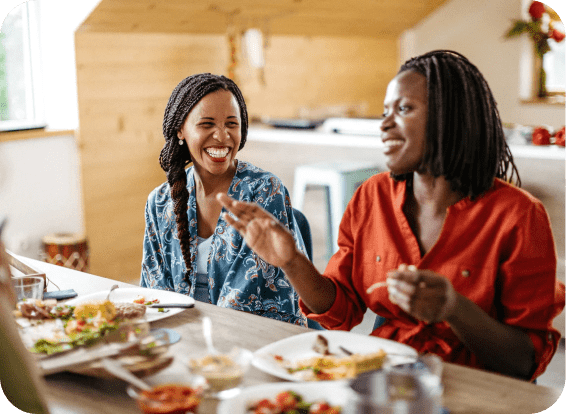 3. Celebrate the Wins!
This is a journey. Every meal you replace with 100% plant-based food is a win and a big step towards a healthier, happier life.
The Benefits of Whole Food Plant-Based Nutrition: Treatment and Prevention of Type 2 Diabetes
Overweight and obese individuals who adopt whole food, plant-based diets can also benefit from losing excess weight, which in turn increases insulin sensitivity…Weight loss combined with plant-based eating patterns may also reduce the amount of fat stored in the liver, an independent risk factor for type 2 diabetes.

"A plant-based diet is a powerful tool for preventing, managing, and even reversing type 2 diabetes. Not only is this the most delicious "prescription" you can imagine, but it's also easy to follow. Unlike other diets, there's no calorie counting, no skimpy portions, and no carb counting. Plus, all the "side effects" are good ones."

"In addition to lowering the risk of developing type 2 diabetes, there is also evidence that plant-based diets, can be effective in treating and managing type 2 diabetes by improving glycemic control, body weight, and cardiovascular risk factors."
— American Society for Nutrition

"Plant-based diets appear to be at least twice as protective against developing diabetes. The more you move towards a plant-based diet, the less likely you are to develop diabetes."
- Ornish Lifestyle Medicine
Hi everyone — 
If you're looking to reverse diabetes, a whole food plant-based diet might be the answer. Diabetes affects millions of Americans, but proper nutrition can help manage symptoms and reduce complications.
Research shows that consuming whole fruits and vegetables can decrease the risk of Type 2 Diabetes, and a whole food plant-based diet is endorsed by many physicians as a primary treatment for the disease.
These diets improve insulin sensitivity and predictability, blood flow, and reduce nerve damage from diabetes.
They lead to more predictable blood glucose levels and easier diabetes management.
They also reduce the burden on kidneys and decrease chances of developing kidney disease.
In fact, a whole food plant-based diet has even been proven to reverse Type 2 Diabetes in patients.
However, none of this changes the fact that shopping for ingredients, chopping them, learning to cook them, and prepping specialized meals over and over again is a huge challenge for patients with pre-diabetic or diabetic conditions.
Creating delicious, diabetes-friendly meals that don't make you want to give up the fight is a challenge, and that's where Whole Harvest steps in, to become your partner in protecting your health.
Our meal delivery service sends fresh, ready-to-eat, whole food plant-based meals straight to your front door.
But these aren't just any meals. These are innovative, industry-leading recipes prepared by professional chefs that bring you a joyful variety of international flavors and reimagined comfort foods.
They're made without oil, low in sodium, made without added sugars, and free of any artificial ingredients. Basically, you have a fresh, clean palette to eat from, possibly for the first time in your life.
Along the way, you'll discover that, rather than giving anything up, you're gaining more than you thought possible. You'll have more energy throughout the day, and you'll be shocked by the fact that there are many flavors in your food you've never even tasted before. It's rare for us to enjoy whole foods in everyday life, and when you take away all of the stuff that normally masks their flavor in highly-processed foods, you discover vibrant, exciting flavors.
Here's what you can expect from Whole Harvest meals:
Whole food, plant-based ingredients full of essential nutrients
Delicious, diverse meal options to satisfy your taste buds
Convenient, ready-to-eat meals that save you time and effort
A healthier and tastier approach to managing Type 2 Diabetes
Create your first custom meal box today and experience the difference with Whole Harvest. You deserve meals that are enjoyable, nutritious, and supportive of your health journey.
To Your Good Health,
Your Support Team at Whole Harvest