5 of the Best Plant-Based Sandwich Ingredients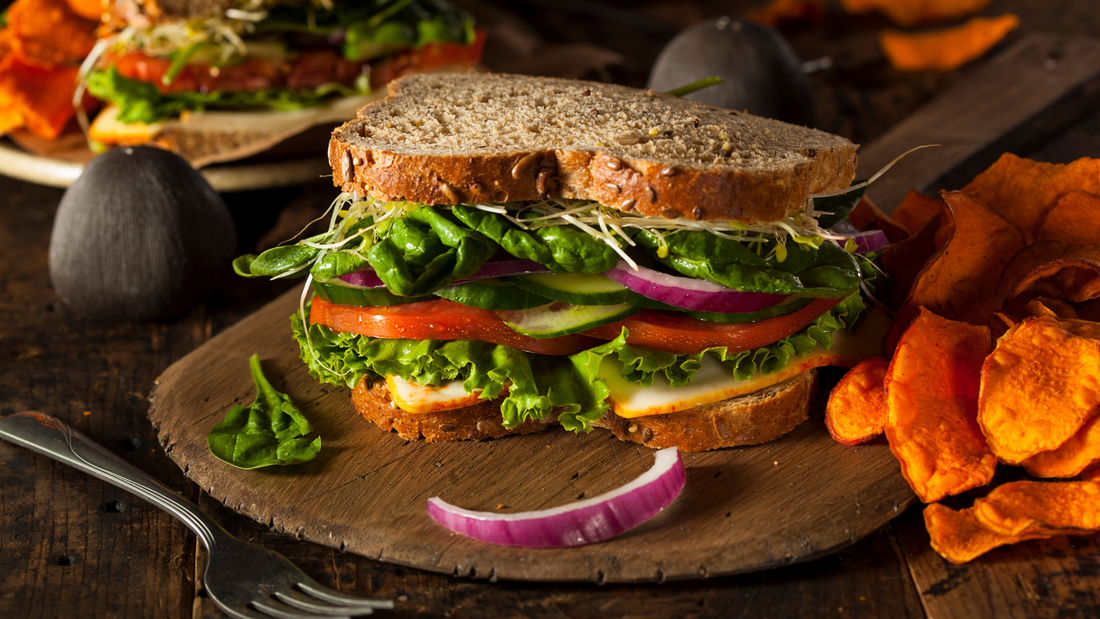 Stuck on plant-based sandwich ideas? Meatless and plant-based options are abundant and healthy choices to elevate any meal. When possible, opt for sprouted whole grain bread for your sandwich base as it provides the best nutrients. Gluten-free bread, Ezekiel bread, sourdough, bagels, tortillas, ciabatta, and baguettes are great options for your plant-based sandwiches. Here are a few of the best plant-based sandwich ingredients we think you'll enjoy:

1. Hummus
Hummus makes a great sandwich ingredient, packing flavor and nutrients. Generally made of chickpeas, tahini, olive oil, lemon juice, salt, and occasionally garlic, red pepper, and garlic. Hummus is a great source of plant-based protein and fiber.
Pro tip: Spread hummus on both pieces of whole-grain bread, then top with your favorite veggies and toppings–peppers, cucumbers, carrots, and avocado provide a nutritious and flavorful crunch in every bite! Look for oil-free hummus or make your own!

2. Avocado
They don't call an avocado a superfood for nothing. Avocado makes a great topper or base for nearly any sandwich and the many health benefits make them one of the most nutrient-dense foods available. Avocados are packed with vitamins, minerals, fiber, phytonutrients, and antioxidants. They are a great source of monounsaturated fat, high in potassium, fiber, and folate.
Pro tip: Avocado can be easily added to any sandwich. Mash and season with garlic and your favorite herbs – basil, dill, and cilantro are great picks. Add some cherry tomatoes, sprouts, and pickled veggies on top. Lightly drizzle balsamic vinegar on top!

3. Roasted cauliflower
Who said veggie sandwiches can't be hearty and delicious? Cauliflower proves this point as a great meat substitute. Cauliflower is naturally high in B vitamins and fiber. It is also a great source of antioxidants and phytonutrients that can protect against cancer. Roasted cauliflower provides the perfect texture and taste to any sandwich.

Pro tip: After slicing the cauliflower into ½" slabs, bake at 450 degrees for 30-35 minutes, until tender and golden. Add a flavorful homemade sauce (Love and Lemons) and top with tomatoes, onions, greens, and more of your favorite veggies!

4. Chickpeas
Smashed chickpeas makes a hearty and nutritious sandwich base. Chickpeas are a good source of protein and fiber, but also supply calcium, magnesium, and other nutrients for strong bones. It's low-flavor profile makes it an easy one to spice up with other veggies, herbs and seasoning.

Pro tip: Ready to make those chickpeas shine in your next sandwich? Check out this delicious Chickpea Sunflower Sandwich recipe from Minimalist Baker!


5. Toppers: Cucumber, tomato, sprouts
You can't forget about the toppers that add flavor, texture, and substance to your plant-based sandwich. Cucumbers, tomato, and sprouts are a great trifecta. Cucumbers are low in calories and high in antioxidants and nutrients. Tomatoes are high in antioxidants and phytonutrients, making them great immune boosters. Sprouts not only add a layer of texture but also have high levels of folate, magnesium, phosphorus, and vitamin K.

Pro tip: Stack those topper veggies high!

Inspired to try new plant-based sandwiches? Veggies make great sandwich toppers and meat substitutes – packing in the flavor and the nutrition. Don't be afraid to discover your own combinations as you experiment with all of the variety a plant-based diet provides!