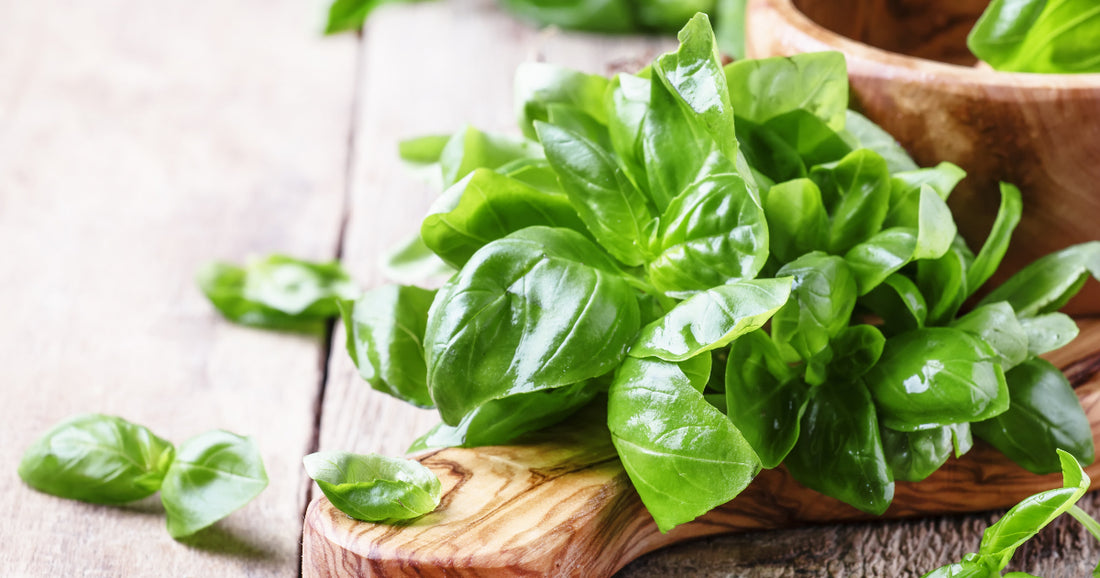 Fresh basil is one of the most delicious and versatile herbs used for appetizers, dinners, and even in drinks. Basil is rich in vitamin K, manganese, iron, vitamin A, and vitamin C. Here are five different and delicious uses for fresh basil. 
1. Make Pesto
Make a simple pesto with fresh basil, garlic, pine nuts, olive oil, salt, and pepper to use on pasta dishes, potatoes, sandwiches, or salads.
2. Top Pizza
Place fresh basil leaves on a homemade Margherita pizza or opt for a simple tomato and basil pizza sauce as the base with fresh vegetables on top. Pizza and basil options are endless.
3. Blend into Sauces
Tomato and basil are a classic pairing, which is why adding some fresh basil to tomato-based pasta sauces is one of the most common uses. You can also make classic basil sauces with fresh lemon and garlic easily in a food processor or blender.
4. Use as a Garnish
Garnish dishes with full basil leaves or finely chop to add subtle flavor throughout soups, salads and even desserts. Top watermelon with basil and mint for a yummy, unexpected twist.
5. Add to Drinks
Use fresh basil in cocktails or mocktails for a fun evening! Create a strawberry, lemon, and basil drink or even a mojito. Muddle the basil or use it as a topping.
At Whole Harvest we believe in making healthy eating easier for everyone. Having fresh herbs like basil on hand can easily elevate a meal. Follow us on Facebook or Instagram for more tips and recipes!