Courtney's Story: Busy and Plant-Based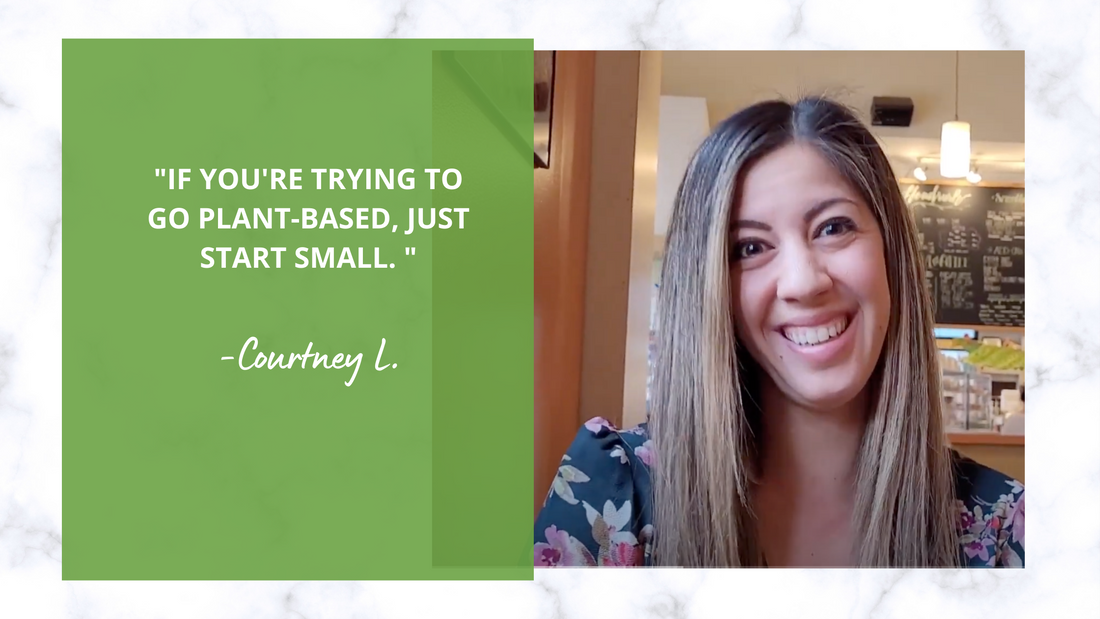 A busy 30-something shares how she maintains a plant-based lifestyle. 
Courtney Landy, originally hailing from Washington D.C., says she started her plant-based journey at a young age.
"My name is Courtney Landy. I work at Cerner and I'm a health marketer. I've been a vegetarian since I was 10 years old and I think at that time, I realized what meat was and where it came from, and I decided to cut it out of my diet."
As she grew up, Courtney was a very healthy child and young adult. She laughed as she recalled her parents worrying that without meat she wouldn't grow. 
Her plant-based journey started like so many others, with plants being the main dish and smaller portions of the other food groups. Later she decided to take her plant-based lifestyle a step further. Though Courtney wasn't experiencing any health concerns at the time, she wanted to prevent problems from developing in the future. Whole Harvest helped make her decision a lot easier.
"I was very healthy throughout my life, mainly eating a plant-based diet. A couple years ago, I decided to go vegan for health reasons. I saw that Whole Harvest opened again after the pandemic and I was so excited to try it out. The sign said, 'Whole food, plant-based' and that's exactly how I like to eat."
Courtney has a very busy work life and eating healthy on-the-go can be challenging.
"It is perfect for a working person like me who likes to cook, but at lunch, sometimes it's great to just pick up something fast."
When asked if she found it difficult to eat this way with her family or when dining out, Courtney shook her head. She has never found the experience challenging regardless of where she was. 
"I've never found it difficult eating a plant-based diet. My parents were very supportive. It's easy to eat side dishes and make a different protein for myself, maybe tofu. I never have any issues when I eat out. My boyfriend and I both eat plant-based food, and it's just part of our life and we don't really think twice about it."
This outlook on plant-based eating, especially for those who eat entirely vegan, is rather unique. Oftentimes we hear how difficult this lifestyle can be in our meat-centered culture. We dove a little deeper and asked Courtney what advice she would give others who want to change the way they eat. 
"Some advice I would give if you're trying to go plant based is just start small, maybe go a couple days a week or Monday through Friday do plant-based, and on the weekend, eat normally. I try to keep a plant-based home, so if I don't buy dairy or eggs, then I'm not going to eat it at home."
Courtney went on to emphasize the importance of avoiding labels and being flexible with yourself. 
"On the weekends I try to be a little more flexible with myself and enjoy eating out. Also, I would like to say that it's easier to call yourself plant-based and not use the vegan title. I try to eat plant-based whole food, but if I don't all the time, it's not a big deal."
If you would like to learn more about a plant-based lifestyle, check out our blog page for more information. Like Courtney mentioned, you don't have to be strict when eating this way. Start by replacing one meal a day and work your way up. Don't like to cook? Check out our ready-to-eat plant-based meals delivered to your door!