How to Make Whole Harvest's Cancer-Fighting Buddha Bowl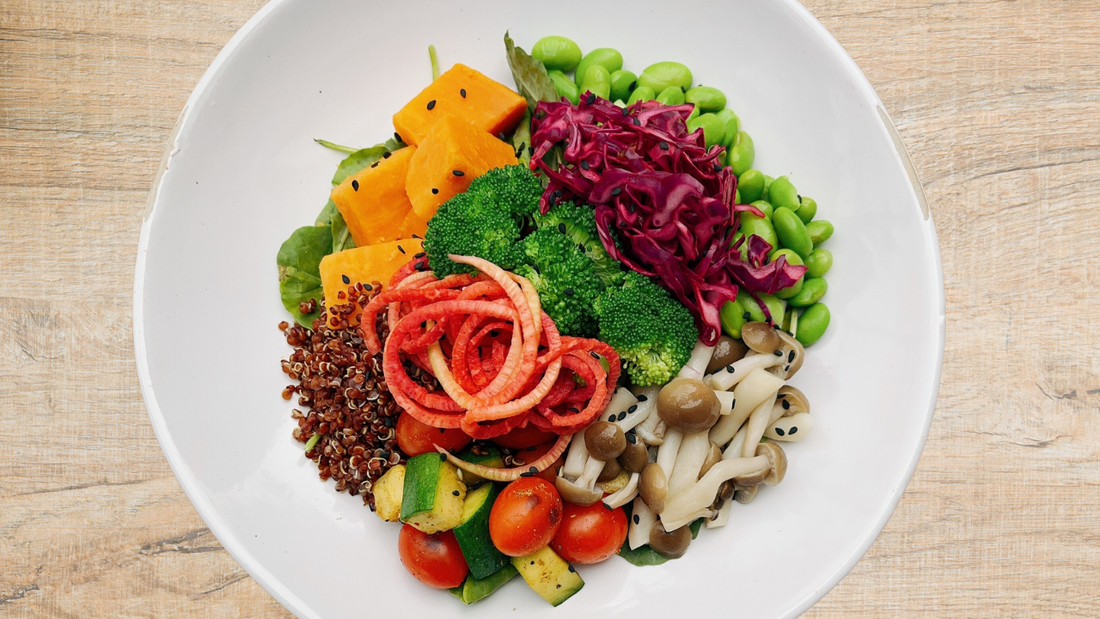 October is Breast Cancer Awareness Month, and we're joining the cause with our specially crafted Cancer-Fighting Buddha Bowl. Packed with wholesome, plant-based, cancer-fighting ingredients, this dish is designed to empower your body. The best part? It's oil, salt, and added sugar-free and tastes divine!
Love the idea of making the Buddha Bowl yourself but don't have the time to do it? We've got you covered! Order our Cancer-Kicking Buddha Bowl through October, and all proceeds will go to THE Breast Cancer Fundraiser's WeCare Program, providing care packages to breast cancer patients nationwide.
In this video, Chef Will Harris explains the ingredients' health benefits as he prepares this delicious dish. Bon Appétit!
Ingredients
2 cups baby Kale
2 cups Steamed Yam, diced
2 cups Quinoa, cooked
1 cup Zucchini, diced
1 cup Cherry Tomatoes
2 cups Edamame, steamed
1 cup Shimiji Mushroom
2 cups Broccoli, steamed
1 cup Watermelon Radish
1 cup Red Cabbage, shredded
1.5 Tbsp. Hemp Seeds
1/3 cup Tamarind Date Dressing (recipe below)
Tamarind Dressing:
1⁄2 cup low-sodium White Beans
2 Tbsp. Pitted Dates
3/4 cup Tamarind Nectar
1/4 tsp. Sea Salt
3/4 cup Drinking Water
1 tsp. Madras Curry Powder
1 tsp. Lime Juice
To make the dressing, place all of the ingredients into a blender and process until smooth. If you'd like it thinner, simply add more water and a touch of lemon. Adjust any of the flavors as you see fit.
Instructions:
Preheat your oven to 375°F.
Steam the yams and let them cool.
Cook the quinoa and let it cool.
Dice the zucchini, then toss it with the cherry tomatoes and roast on a sheet tray until the vegetables are colored and the tomatoes are slightly blistered. Roast at 375°F for about 10 minutes.
Blanch the edamame and let it cool.
Blanch the broccoli and let it cool.
Peel and slice or spiralize the watermelon radish.
Shave the cabbage thin, using a mandoline or a knife, and toss it in a touch of lemon juice.
To assemble:
In a large mixing bowl, combine all the prepared ingredients.
Pour the Tamarind Date Dressing over the salad and toss everything together.
Season with salt and pepper to your liking.
Divide the salad mix between 4 serving bowls.
Enjoy!
We've partnered with The Physicians Committee for Responsible Medicine's Let's Beat Breast Cancer campaign and THE Breast Cancer Fundraiser. This program provides free care packages to breast cancer patients across the United States. 
All of our meals are shipped fresh in industry-leading vacuum-sealed containers, ensuring you receive the highest quality and healthiest food possible.
Whole Harvest is the leader in innovation and creativity in oil-free, whole food plant-based cooking. We provide our members with incredible variety throughout the week.
Best of all, everything is ready to eat! We're passionate about making it easier for people to enjoy the benefits of WFPB diet with absolutely no oil involved.
Whole Harvest is based out of North Kansas City, Missouri and Denver, Colorado, and we ship to almost everywhere in the U.S. for your convenience.
Check out our weekly menu and get started with Whole Harvest today!