Lentil Shepherd's Pie Recipe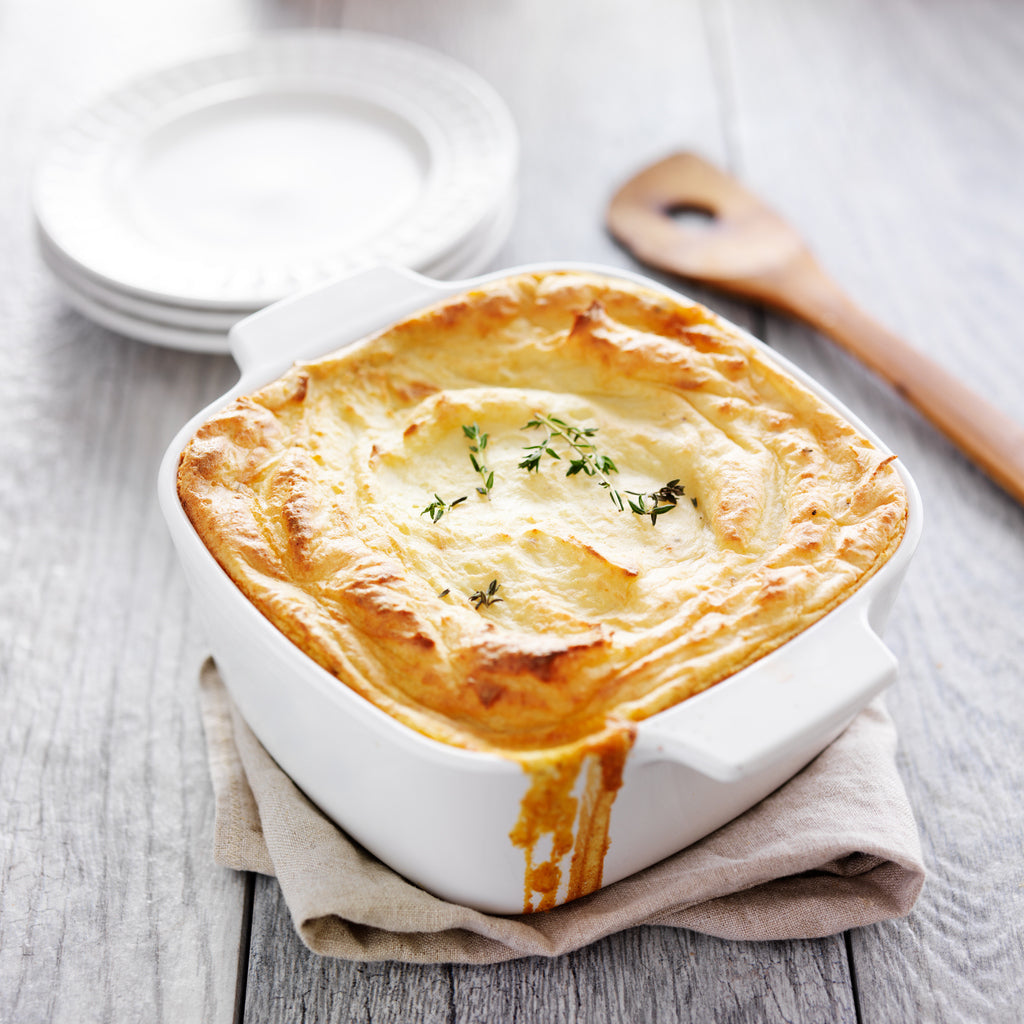 This scrumptious Vegetarian Shepherd's Pie boasts all the incredible flavors you'd find in the classic version but with the hearty and nutritious twist of lentils!
| | | |
| --- | --- | --- |
|  Prep Time: 20 minutes | Cook Time: 45 minutes | Serves: 2 |
Tender lentils bubble away in a savory, rich broth, while a layer of velvety mashed potatoes crowns the top. Baked to a golden perfection, this delectable dish is sure to become your go-to meatless favorite all year round. Dive into this easy-to-make meal and relish the satisfaction that only a wholesome and flavorsome Lentil Shepherd's Pie can bring!
Nutritional breakdown for Lentil Shepherd's Pie
Calories: 280
Fat: 1.5g
Carbohydrates: 54g
Protein: 17g
Fiber: 18g
Please note that nutrition facts may vary slightly depending on the specific brands and quantities of ingredients used, as well as the method of preparation.
Ingredients for Lentil Shepherd's Pie Recipe (Plant-Based)
1 cup green or brown lentils, ready to party
2 cups water or vegetable broth, to keep things hydrated
2 medium carrots, chopped and raring to go
2 stalks celery, chopped and eager to join the fun
1 onion, chopped and ready to make you cry tears of joy
2 cloves garlic, minced and full of flavor
1 tablespoon tomato paste, to add some saucy goodness
1 tablespoon soy sauce or tamari, for a little umami kick
2 teaspoons dried thyme, to bring the zest
1 teaspoon dried rosemary, for a touch of aromatic magic
3 medium potatoes, peeled, chopped, and excited to be mashed
1/4 cup non-dairy milk, the secret to creamy potatoes
Salt and black pepper, to make the flavors pop
An authentic shepherd's pie recipe calls for lamb. However, when you use ground beef, it transforms into a cottage pie. But we're taking it a step further and swapping out the meat for lentils in this Plant-Based Recipe.
LENTILS: Lentils are a delicious, healthy, and budget-friendly alternative to meat in almost any ground beef dish! Simply use 1 cup of dried lentils as a substitute for 1 pound of ground beef in most recipes.
VEGETABLES: This recipe truly shines when you use fresh veggies. But if you don't have any on hand, don't worry! Grab some frozen mixed vegetables and toss them in alongside the peas for an equally delightful result.
SAUCE: The secret to this recipe's irresistible sauce lies in the combination of flour and the leftover broth from cooking the lentils. Depending on the type of lentils you use, you may need to adjust the amount of broth. Start with 3 cups, and as you mix in the veggies and lentils, let the sauce simmer and thicken. Add more broth as needed (I usually add about 4 cups).
Instructions for Lentil Shepherd's Pie Recipe
Let's get this party started! Preheat your oven to a toasty 400°F (200°C).


Give your lentils a little bath by rinsing and draining them. Then, invite them to a pot filled with water or vegetable broth. Crank up the heat, bring it to a boil, then let it simmer for 20-25 minutes or until the lentils are tender and ready to mingle.




While the lentils are soaking up the flavors, grab a separate pan and sauté your chopped onion, garlic, carrots, and celery. They'll be best buddies in no time!




Time for the main event! Add the tomato paste, soy sauce, thyme, and rosemary to the pan, and give it a good stir to make sure everyone's getting along.




Bring the lentils over to join the veggie fiesta in the pan, and mix everything up until it's one happy, delicious party.


Guide the lentil and vegetable crew into a baking dish, making sure everyone has a comfy spot to settle in.


Now, let's make some magic happen with those potatoes! Boil them until they're tender, then mash them up with non-dairy milk and some salt and pepper to taste. Hello, creamy goodness!




Carefully spread your luxurious mashed potatoes over the lentil and vegetable mixture, creating a cozy blanket of potato perfection.


Finally, pop that masterpiece into the oven and bake for 20-25 minutes, or until the potatoes are lightly browned and ready to delight your taste buds.