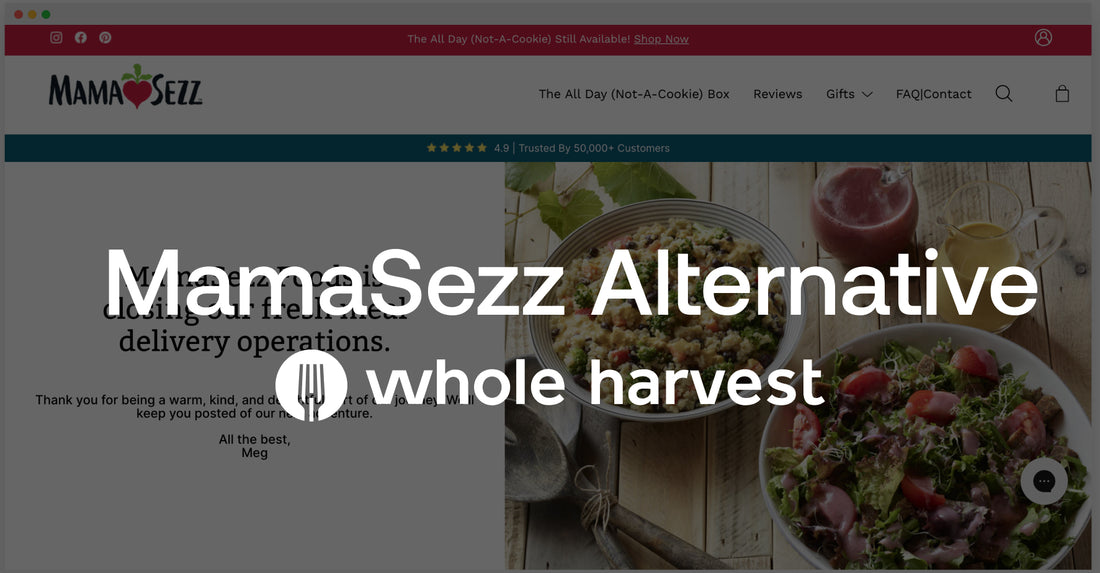 Discover the Perfect Alternative to MamaSezz: WholeHarvest.com Delivers Fresh, 100% Whole Food Plant-Based Meals Right to Your Doorstep!
Don't Let Your Plant-Based Journey Stall—Switch to WholeHarvest.com and Keep Thriving!
MamaSezz may have closed their fresh meals delivery operations but that doesn't mean your quest for a healthier, happier life has to end.
Welcome to WholeHarvest.com, where we're committed to delivering fresh, delicious, and 100% whole food plant-based meals directly to you.
Why Choose WholeHarvest.com?
100% authentic whole food plant-based food prep is hard to find.
Many food delivery services say they're WFPB. Look closer, and you'll catch them sneaking in oils full of empty calories, excessive sodium, processed ingredients, and other shortcuts.

Or worse, the food just isn't that good. It puts you back to square one, struggling to keep up with shopping and food prep on your own.
Take control of your health through whole food plant-based meal delivery.
100% Whole Food, Plant-Based
Nothing is processed or stripped of what makes it great. These are pure, whole foods cooked from scratch. 
100% Fresh
We deliver fresh meals in vacuum-sealed containers that preserve flavor and last longer than other delivery services without the use of artificial preservatives.
100% Oil-Free
We don't cut corners! Our meals are cooked without artery-damaging oils or other harmful stuff. (Tell me more!)
Meet the ultimate delivery service for whole food plant-based meals.
Your choice to eat WFPB deserves total, uncompromising support and some unforgettable food to go with it. 
If you're ready to do take control of your health, we've got your back like no one else.
🌱 No Preservatives. Only 100% Fresh, Whole Food Ingredients
We source only the freshest, organic ingredients to create meals that nourish your body and delight your palate.
📦 Convenient, Reliable Delivery
Never worry about meal prep again. Our reliable delivery service brings your chosen meals right to your doorstep, on time, every time.
💚 Satisfaction Guaranteed
We stand by the quality of our meals. If you're not 100% satisfied, we'll make it right—no questions asked.
What Sets Us Apart
Chef-Cooked Meals
Have chef-prepared, ready-to-eat delicious meals delivered fresh to your front door.
Easy Online Ordering
Our user-friendly website makes meal selection and ordering a breeze.
Customizable Meal Plans
Whether you're a busy professional, a fitness enthusiast, or someone with specific dietary needs, we have a meal plan that's just right for you.