Introducing Whole Harvest's SOS-Free-Compliant No-Salt Seasoning Blends – Seasoning without salt just got easier!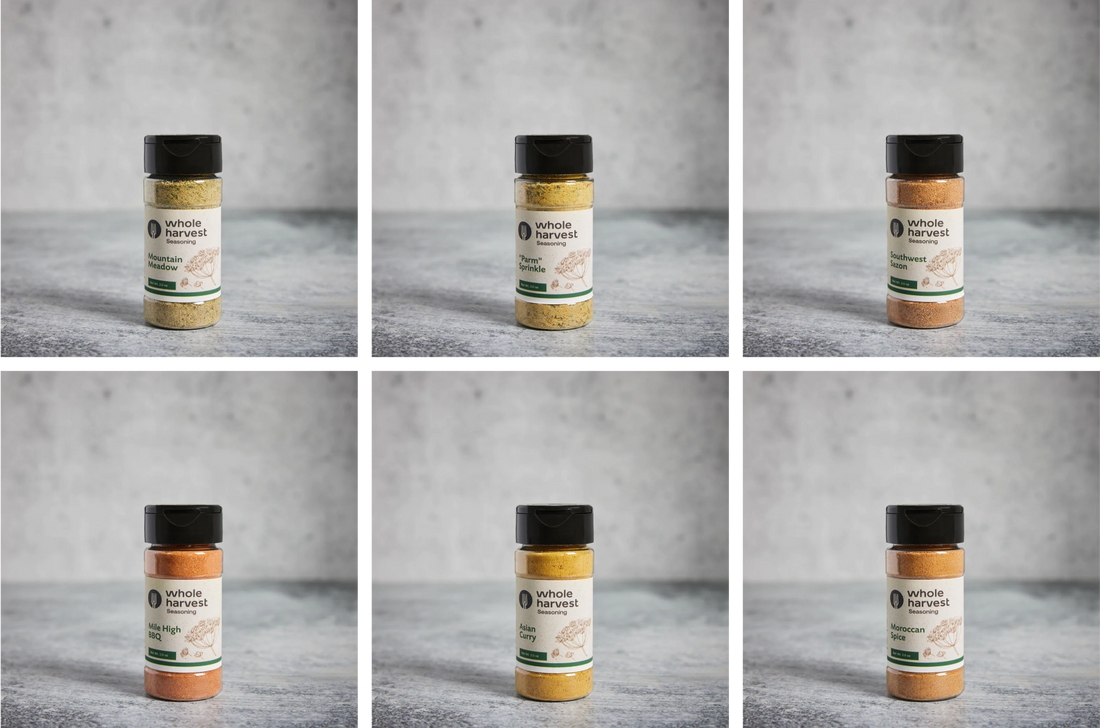 There are certain things you never want to hear in life, like "You're going to need to give up salt."
Worse yet, when someone first tells you there are salt-free seasonings out there you'll really enjoy, you probably think, "Yeah, right!"
Being human, it doesn't matter that we hear all of the warnings from our physician about the dangers of excess salt consumption like heart disease, high blood pressure, kidney damage, or the risk of a stroke. We want our salt!
It's also possible you made this choice on your own as part of a healthy lifestyle. Maybe you're proactively cutting back on salt in your diet. The same question probably haunts you as someone with larger health concerns…
"Salt = flavor, right? Aren't I giving up a life filled with flavor if I surrender the salt?"
Well, the opposite is true.
Don't believe us? Read on, because your flavor FOMO is well-warranted…
Salt-Free Seasonings Introduce a Whole New World of Flavor You've Been Missing!
When you cut back on salt, a million other flavors the salt's been covering up begin to emerge. Just think about how many other herbs and flavors are out there: ginger, turmeric, rosemary, oregano, thyme, garlic, and cumin to name a few.
Cutting back or even eliminating excess salt is a common part of a whole food plant-based diet for many of our Whole Harvest customers. Part of our mission is to reveal the amazing flavors waiting to be discovered when you remove the excess sodium processed foods shove onto our taste buds.
Whole Harvest Introduces Its New Line of SOS-Free-Compliant Salt-Free Seasoning Blends!
The truth is, seasoning without salt is an exciting art full of endless possibilities.
To invite our delivery customers into this journey, we've created our brand new line of
Our new, no-salt seasoning blends include…
You'll learn more about them below, and you can order them at the bottom of our
We created them to compliment our whole food plant-based recipes. Customers using our meal delivery service can season their meals to taste.
However, anyone wondering how to cook without salt can use Whole Harvest blends to create their own masterpieces while embracing the health benefits of salt-free seasoning, and there are many!
What Is a Salt-Free Seasoning Blend?
Salt-free seasonings are any kind of spices or herbs that don't contain sodium chloride (salt). They typically come in dried powder form, but you can also make your own by chopping fresh herbs and grinding up whole spices.
These seasonings are widely available in grocery stores, health food shops, and online retailers. We all know where to find basic ingredients like onion powder, oregano, basil, red chili pepper, thyme, turmeric, cumin, black pepper, and paprika in a grocery store.
But how do you blend them together? That's where the magic happens, and that's where our chefs, who specialize in whole food plant-based cooking, have been hard at work to create the perfect balance of flavors in our salt-free seasonings.
Who Needs Salt-Free Seasonings?
Salt-free seasonings are ideal for anyone looking to reduce their sodium intake without sacrificing flavor. This might include people with high blood pressure, heart disease, or kidney disease; those on low-sodium diets prescribed by doctors; and anyone trying to live a healthier lifestyle.
What Are the Benefits of Salt-Free Seasonings?
The biggest benefit is that these seasonings offer the same flavors and aromas as a regular seasoning blend containing salt.
However, the herbs in salt-free seasonings have additional health benefits such as aiding digestion, reducing inflammation, boosting immune system, and providing antioxidants!
Another benefit of salt-free seasonings is that they are very easy to incorporate into meals. Since most of them (Including ours!) are sold in dried powder form, it's easy to add them to recipes or ready-to-eat meals.
Why Did We Create Whole Harvest's Salt-Free Seasoning Blends?
Our strongest motivation in creating our SOS-Free-compliant seasoning blends is the same as our Whole Harvest mission, to make it easier for people to live healthier lives.
Tackling an Excess Salt Epidemic
On average, Americans consume 3,400 milligrams of sodium per day from a combination of processed foods, restaurant meals, condiments, dips, and other items that contain added salt.
Meanwhile, the recommended intake for healthy adults is 2,300 milligrams per day. For people with certain conditions like diabetes, high blood pressure, or kidney disease, the recommendation drops to 1,500 milligrams per day!
Consuming more than these levels of sodium increases the risk of developing chronic illnesses such as heart disease and stroke.
Health Benefits of Salt-Free Seasonings
Making the switch to a salt-free diet means lower blood pressure, reduced water retention, and improved cardiovascular health. A diet low in sodium helps prevent fluid buildup in the body, which reduces the strain on the kidneys and lowers the risk of stroke and other serious health problems.
Lowering sodium consumption has been shown to improve heart health significantly, especially in older people. In fact, one study found that people who followed a salt-free diet had 25 percent lower mortality rates than those who consumed higher amounts of salt!
Helping People through the Adjustment Period of a Salt-Free Diet
When you eliminate salt from your diet, your taste buds have to adjust. Over time, you start to appreciate subtle flavors that were previously hidden by the addition of salt.
Don't worry. This gradual discovery (or RE-discovery) of flavor is scientifically proven! A study on adjusting to a no-salt diet at the University of Kentucky proved this is possible. Generally, it takes 3-4 weeks to make the transition.
But when you're making a big life-change like eliminating salt, it 3-4 weeks can seem like a lifetime. That's why nutritionists like Amy Shapiro, MS, RD, CDN recommend strategies like this simple, five-step one below…
Read labels carefully! You'll find hidden sodium everywhere in processed foods. The best thing to do is eliminate them altogether, but if you are tapering back, check the sodium content, especially in health foods, and track your intake.


Taste your food first! So many of us are conditioned to grab the salt shaker and add salt before we ever taste our food! We encourage our Whole Harvest customers to always taste first before adding salt or salt-free seasonings to their whole food plant-based meals. Our chefs have balanced the flavors carefully, but everyone's tastes are different.


Start with a few meals a day. You don't have to go all-in on salt-free. Start with one or two meals in the day and give yourself a break on the other ones. A gradual journey helps your taste buds adjust over time.


Use salt-free seasonings! Using flavor-boosters like Whole Harvest's blends in a salt-free meal helps your taste buds learn to discover the wonderful flavors they've been missing!


Have patience! Remember, this will take 3-4 weeks, but ask anyone who has gone through the journey. They don't miss the extra salt, and they now enjoy the natural flavors in their food like never before!
As you can see, we developed our seasoning blends as
As you can see, we developed our seasoning blends as a key part of a strategy to transition to a salt-free diet.
Whole Harvest's Salt-Free Seasoning Blends Support SOS-Free Diet Guidelines!
The SOS-Free diet has become increasingly popular among people who want to enjoy whole food plant-based meals with a few additional restrictions for an even healthier lifestyle. Both diets offer major health advantages, especially when it comes to reducing weight, improving blood pressure, and decreasing inflammation, and we wanted to make it easier for people to enjoy these benefits!
The SOS-Free (Salt, Oil, Sugar-Free) diet removes salt, oil, and sugar from your diet while simultaneously syncing up with a whole food plant-based approach.
The foundation of the SOS-Free diet is eating ultra-healthy, whole food plants without any animal products or processed food items. This includes fruits, vegetables, nuts, seeds, legumes, spices, and herbs. Eating more fresh produce allows us to switch away from highly processed convenience foods and gain more vitamins, minerals, antioxidants, fiber, and various phytonutrients necessary for overall well-being.
Rich, flavorful salt-free seasoning blends make it easier to make this switch and add greater joy and discovery to the journey! Meanwhile, Whole Harvest's fresh, ready-to-eat meals are already made without added sugar and are completely oil-free!
Meet Whole Harvest's New Collection of Salt-Free Seasoning Blends!
Now that you've seen the benefits of a salt-free diet and can see a pathway to get there, let's give you a closer look at our new Whole Harvest Salt-Free Seasoning Blends!
All of them are gluten free and SOS-Free-compliant, and ALL of them add rich, vibrant flavor to your recipes or ready-to-eat meals. (Like the ones we ship to your front door!)
Mile High BBQ
Low-sodium diets don't mean you have to give up on the complex flavor profile of BBQ! This savory blend of paprika, garlic, and onion powders has a big trick up its sleeve – dehydrated sea asparagus! Sound crazy? It isn't! Also known as "green salt," this all-natural ingredient gives salt-free blends a light saltiness and lifts all of the flavors along with it! We use it in many of the blends below as well.
Learn more about Mile High BBQ.
Southwest Sazon
This one adds a powerful flavor boost to any Mexican dish. We love it on our whole food plant-based Southwest Mac and Cheese entree, but whatever Mexican-inspired or Southwest-style dish you're working on, all of your favorite flavors sing together in this blend: garlic, chili powder, cumin, onion powder, oregano, and hits of citric acid and pepper for a kick! 
Learn more about Southwest Sazon
Asian Curry
A superior curry seasoning is a staple of any pantry. We love this secret ingredient on our Ginger Tofu Grain Bowl! In this one, ginger, curry, dried dates, sesame seeds, poppy seeds, a citric kick, and gochugaru pepper flakes live in perfect harmony, bringing the flavors of the Far East alive in ways you've never experienced before!
Learn more about Asian Curry no salt seasoning.
Moroccan Spice
One of the most important strategies in a salt-free or even an SOS-Free diet is exploration! You should enjoy taking a tour around the world with your flavor profiles, and this one brings exotic flavors to life on any veggie or starch. Boost your flavor profile with an elegant blend of ginger, cinnamon, turmeric, mustard seed, coriander, nutmeg, cumin, onion, and black pepper!
Learn more about the Moroccan Spice
Mountain Meadow
When you're looking for a fresh, herbal lift to your meal, this is the one! This is probably our most versatile blend and can add just the right hint of flavor to any dish. Rosemary, thyme, sage, and even a hint of lavender make this like taking a trip to your fresh herb garden in the summer and adding a sunlit-fresh sparkle to your recipe.
Learn more about Mountain Meadow seasoning.
"Parm" Sprinkle
This is one of our most popular. On a whole food plant-based, low sodium diet, one of the things people miss most is grabbing for that big, green bottle of parmesan cheese in the fridge and dumping it on things like Italian dishes, sandwiches, and salads.
This blend of hemp seed hearts and nutritional yeast has a similar taste and texture to parmesan, and it brings the joy of sprinkling this flavor onto your food back into your life! You have to try it to believe it, and we love it on our Savory Mushroom Bolognese entrée.  
Learn more about "Parm" Sprinkle no salt seasoning.
Whole Harvest Delivers Delicious Low-Sodium and SOS-Free-Compliant Meals to Your Front Door!
Our fresh, ready-to-eat meal delivery is service is the new gold standard in whole food plant-based meal subscriptions.
We built this service from the ground up to support the WFPB community and everyone who needs to enjoy rich, complex flavor in low-sodium meals.
Our promise to you is everything 100% whole food plant-based, 100% fresh, and 100% oil-free. Our meals meet a variety of health-based goals, not the least of which are weight loss or combatting cardiovascular disease and type-2 diabetes. Whatever your health-based goal is in regards to WFPB food, we can support it!
Explore our menu and make your first order here.