Oil Free Dressing and Vegan Oil Free Mayo Recipe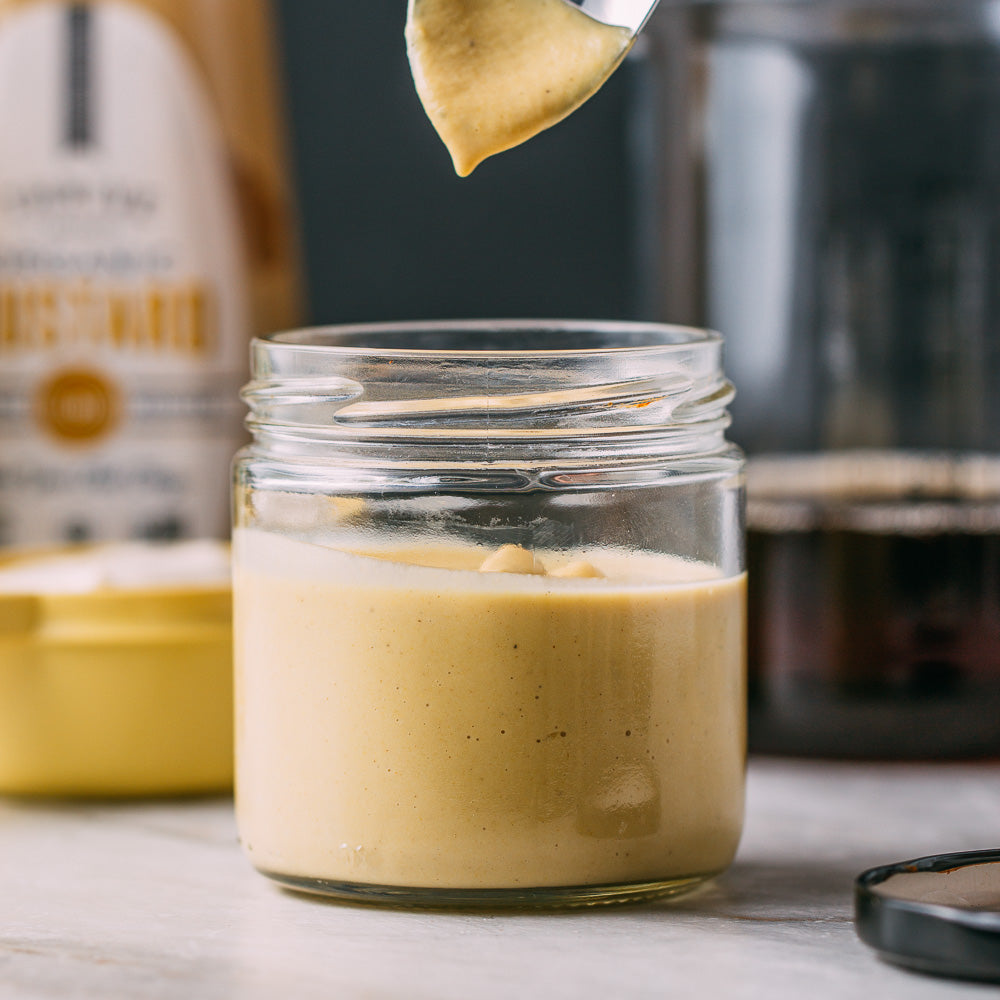 Whole Harvest Executive Chef has whipped up a duo of drool-worthy dressing recipes that are as delectably versatile as they are plant-based! These vibrant, plant-based concoctions offer a fresh spin on classic dressings while keeping your wellness goals in mind.
Dip, drizzle, or dollop – treat your taste buds to these lip-smacking dressings and watch your culinary prowess soar to new heights. Get ready to embrace a world of flavor with a healthy twist!
321 Dressing — Oil Free Dressing

This remarkable dressing combines the rich tanginess of balsamic vinegar with the bold flavor of Dijon mustard and the delicate sweetness of maple syrup. This versatile concoction is perfect for drizzling over bean salads, green salads, and marinades, or for dipping your favorite crudité.
Ingredients:
3 tablespoons of balsamic vinegar
2 tablespoons of dijon mustard
1 tablespoon of maple syrup
Method:
In a small bowl, whisk together balsamic vinegar, Dijon mustard, and maple syrup until thoroughly combined.
Use the dressing on bean salads, green salads, marinades, crudité, and more.
Nutrition Facts (per serving, serves 1):
Calories: 74
Total Fat: 0.5g
Sodium: 196mg
Total Carbohydrates: 16g
Sugars: 12g
Protein: 1g
Vegan Oil-Free Mayo Recipe

This vegan mayo recipe replaces traditional ingredients with healthier alternatives, creating a delicious and guilt-free condiment perfect for potato salad, burgers, and sweet potato oven fries.
Ingredients:
1/2 cup AquaFaba
3/4 cup ChickPea (use canned for convenience)
1 Tablespoon Dijon
1 Tablespoon Apple cider Vinegar
2 teaspoon white distilled vinegar
1 Tablespoon Dijon
1/4 tsp garlic powder
1/4 tsp. onion powder
1 Tablespoon Maple Syrup
1/2 tsp sea salt
Method:
Add all ingredients into a food processor or blender.
Process until smooth, adjusting with more liquid if needed (add water).
Use the vegan mayo with potato salad, on burgers, or with sweet potato oven fries.
Nutrition Facts (per serving, about 10 servings total):
Calories: 28
Total Fat: 0.2g
Sodium: 62mg
Total Carbohydrates: 5.3g
Dietary Fiber: 1.2g
Sugars: 1.5g
Protein: 1.4g
Experience the delightful flavors and versatility of these plant-based dressings, masterfully created by Whole Harvest Executive Chef. Enjoy the healthful benefits and incredible taste of these two exceptional recipes, perfect for a wide array of dishes.