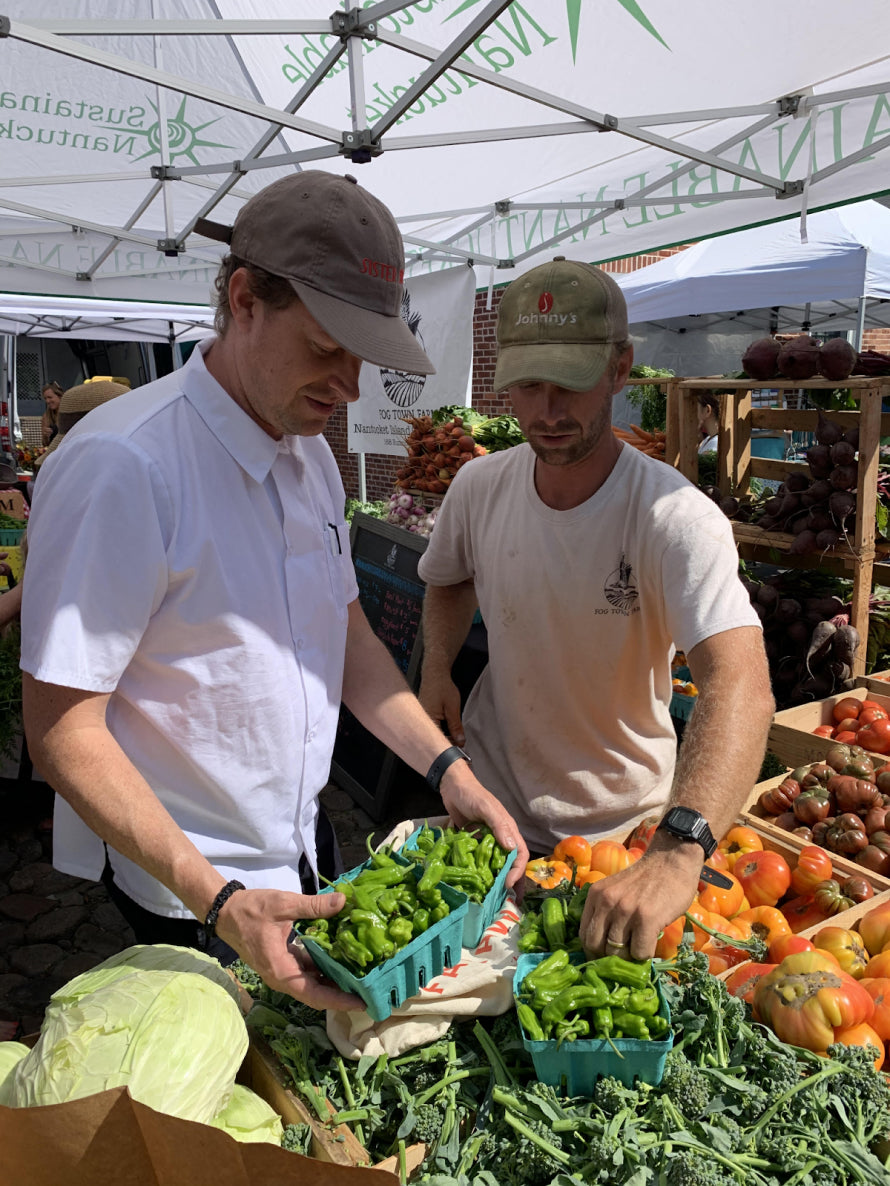 Executive Chef, Will Harris
William began his career and attraction for food at the age of 15 in his home town of Coronado, California. A surfing buddy's family owned a busy fish restaurant in the coastal town. The friend's dad gave him a shot at cooking along with a taste of professional kitchen life. 
William was hooked, and after high school he was off to the Hudson Valley of New York to acquire a degree from the renowned Culinary Institute of America. While attending school, William occupied his rare and elusive free time by dipping into a few famed spots in the valley and the big city, feeding his craving for cooking while sharpening his knowledge with each shift. 
Upon graduation, William jumped into the big leagues, cooking at the award-winning Mille Fleur in Rancho Santa Fe and the "ahead of its time" Region under the mentorship of Michael Stebner. 
His love and education of simple seasonal cuisine landed him an executive chef position at the ripe age of 23 at Tartine Cafe, in Coronado, Ca. William found himself at the top of his game in a city filled with chefs almost twice his age. 
From there, he was placed at the helm of a collection of seasonal, coastal restaurants in San Diego, and was then invited to create a culinary program at the local city college, where he wrote the curriculum based on healthy cooking and eating. 
After a year of being engaged in a teaching environment, it was his Mentor Michael who lured him back into the restaurant world to build a brand with the nationally acclaimed True Food Kitchen. True Food was groundbreaking with its mission and offerings of a cuisine based on the anti-inflammatory teachings and practices of Dr. Andrew Weil. 
The Big Apple has a way of pulling you back in, and after a few years with True Food, William received a call from Food Networks celebrity Geoffrey Zakarian and was asked to run his Midtown Manhattan behemoth, the National, inside the Benjamin Hotel.
After a few years in New York, it was time to settle down in Denver, Colorado with his wife and start a family. William ran restaurants for the trendy farm-to-table and health-centric Edible Beats group and then joined Lifehouse Hotels as their corporate chef, conceptualizing and launching restaurants, boutique inns, and hotels in Denver, Miami, Nantucket, New York and a few thoughtfully-curated locations throughout the eastern seaboard.
Having lived most of his years in the professional culinary world, he's always yearned to find a position that focuses on foods that heal disease and prevent health issues amongst millions of Americans. He's found himself jumping off into the deep end to showcase the benefits of a whole food plant-based diet. His goal is to make an impact on as many as possible, allowing them to live a more fulfilling and longer life.