22 Questions With Chef Richard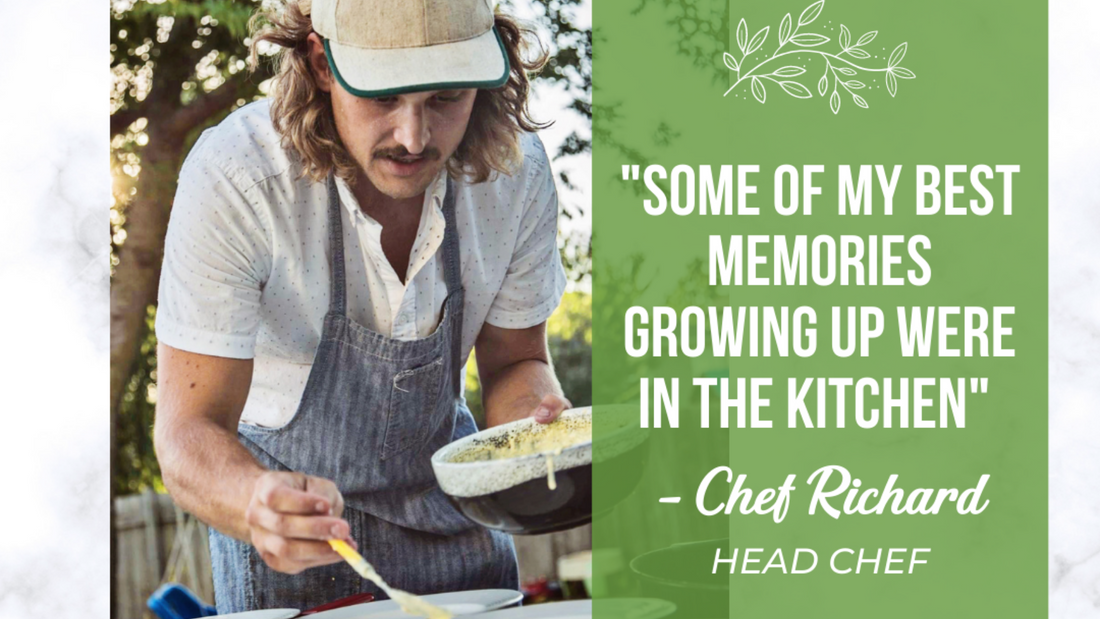 Get to know Chef Richard Wilks, the expert chef behind Whole Harvest. Richard's love for food and cooking began at an early age, and today he brings his passion and bold and fresh cooking style to create each Whole Harvest meal. Richard shares how he began his plant-based lifestyle, his favorite kitchen ingredients, why he chose to partner with Whole Harvest, and so much more! 
1. When did you first know you wanted to be a chef? 
I grew up working in my dad's bar and grill in small town Kansas. My best memories growing up were cooking with my big, weird, and loving family. I decided to get my degree in Hospitality Management and my first job out of school gave me the technical training I needed, not just to cook, but to efficiently run a restaurant kitchen.

2. Describe the decision to become a plant-based chef. How did you get started in the plant-based lifestyle?
I was living out in Denver and at the time couldn't afford much more than peanut butter, quinoa, and fresh vegetables. I found myself eating a majority plant-based diet and dove in full-force as a New Years' resolution and I haven't looked back. I find it sets my cooking style apart from others and I'm always looking for ways to challenge myself within and outside the kitchen.
3. Why did you want to partner with Whole Harvest?
I decided to become part of the team because of the amazing opportunity they offered me to help build a business looking to change lives.
4. What 3 words best describe you?
Positive, mindful and creative.

5. What is your favorite kitchen tool?
My F. Dick chef knife I bought off a knife truck in East Hampton, NY.

6. Favorite herb or spice to cook with?
Hard choice! Spice: Ancho chili powder; Herb: Rosemary.

7. What's something you always have in your fridge?
Hot sauce.

8. What's your motto or words you live by?
Treat the person to your left and to your right better than you want to be treated and we'll all be alright.
9. In your opinion, what makes Whole Harvest unique?
The team truly cares about changing the lives of our current and future customers. They have created a culture that will build empowering leaders that will change the market we are in.

10. Where does your inspiration come from?
Everywhere. Past restaurants, new cookbooks, nature, the farmers market, Instagram, mentors, friends, and family.
11. Describe your cooking style in 3 words.
Bold, imaginative and fresh.

12. Do you cook with music on? If so, what's playing? 
Always. It depends on what I'm cooking, where I'm cooking, and what I'm cooking for. Most of the time it's reggae or bluegrass.

13. Who are your biggest influences and/or closest mentors in the food world?
I like to take inspiration from all over the industry. I want to give people what they want while staying healthy and fresh.

14. What's the one ingredient you can't live without?
Salt. It enhances the flavor of all food. Fun Fact: I have the Morton Salt girl tattooed on my arm.

15. What's your go-to meal when you're low on time?

Apple and peanut butter or quinoa piled with fresh vegetables and a simple lemon vinaigrette and some hot sauce.

16. How has cooking professionally changed your relationship with cooking at home?
I cook almost every night at home. There have been times in my career where I was severely burnt out and it began affecting my cooking at home with friends and family. When that happens, I know it's time to make a change.

17. Person you would most like to cook for?
I'm a lucky dude. I get to spread good vibes and health while creating memories through my food for my family, friends, and community on a regular basis. That's all I could ever ask for. 

18. What behind-the-scenes secret can you tell us about Whole Harvest?
We have A LOT of fun in the kitchen creating these meals. I've never laughed so much in a kitchen setting than I do with our team.

19. What are a couple passions outside of cooking?
Running with my kick-butt wife, Maddy. Hanging out with our doggos, Atticus and Lulu. Camping, canoeing, hiking, gardening and doing home renovations. I love working with my hands while building and being creative.

20. What would people be most surprised to learn about you?
I was a 265-pound "jock" in high school.

21. In your opinion, what are the greatest benefits of a WFPB diet?
The way it makes you feel. It will give you more energy than you could imagine.

22. What's your best encouragement for someone just starting out on the WFPB diet?
Open your mind and give it a try. You will not regret it. It takes some time to change your palette, but it will happen and it will be great.
Check out Whole Harvest's meal plan -- fresh, plant-based, ready-to-eat meals delivered to your door!