Q&A with Plant-Based Chef Richard Wilks from Whole Harvest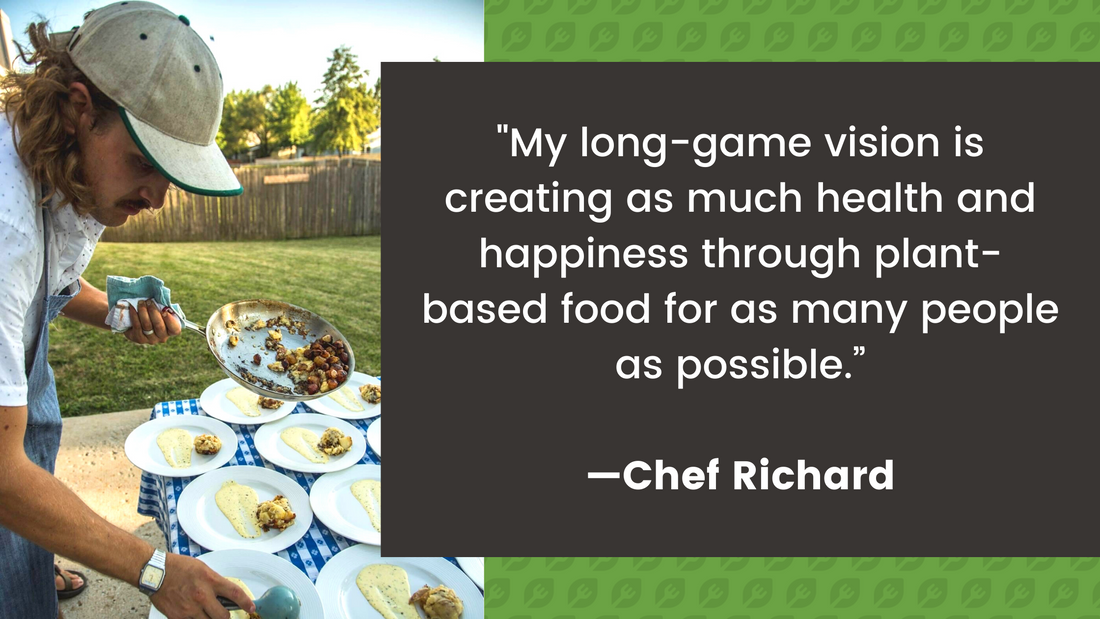 We often hear from our fans that Whole Harvest meals are so much more delicious and complex in flavor than expected from a prepared food delivery service—let alone a plant-based one. The recipes are diverse and represent global cultures, featuring whole, superfood ingredients that are locally sourced and never frozen.

The main reason Whole Harvest meals are so incredible is due to Chef Richard Wilks and his expansive menu of creative recipes. Richard enjoys, studies, and appreciates food from around the world, focusing on what tastes great and what provides the most exceptional health benefits. He looks at which cultures live the longest, if diet is a reason for that longevity, and he digs deeper to leverage the most valuable staples those people consume.

Chef Richard cares about people more than anything else, and he personally wants everyone who enjoys his meals to feel satisfied, energized, and better than ever. He wants the Whole Harvest community to thrive and focuses his artist's eye on unique and delicious ways to achieve this goal.

Get to know Chef Richard Wilks…
Q: When and why did you decide food was your thing?
A: My dad owned a small-town bar and grill for 30 years and my mom and stepdad were always cooking — we rarely ate out. I always associated the creation of food with joyful experiences. I found success cooking for friends in college, and I just stuck with it. Spreading good vibes and joy through food has always brought me—and I believe others—a lot of happiness.
Q: What were some key milestones on your culinary journey that got you to this place in your career?
A: I worked myself through college working in hotels, late night pizzerias, and bakeries. After college I took a job with Hillstone Restaurant group and went through their culinary training program in New Jersey. I finished the training in East Hampton, New York, and was fortunate to get transferred to a restaurant in Palm Beach, Florida, where I learned from a very tough but loving chef named Andrew Schor—I owe a lot of my success to his mentorship. After going back to East Hampton for a head chef position, I moved on to Denver to explore other areas of the industry.

While there I worked as a pastry chef and in the kitchen of a fine-dining Northern Italian restaurant, while also teaching after-school cooking lessons. This is when I became plant-based in my diet and discovered my love of teaching kids to cook plant-based recipes. We then moved back to Kansas City where I taught culinary arts at the Kansas City Kansas Community College and started with a Korean restaurant, where I learned a brand-new way of cooking. I was approached to do a plant-based concept with a food hall, but plans got cut short due to the pandemic. I then found my way to Whole Harvest.
Q: Was there a personal event in your life (such as a health condition) that inspired you to personally adopt a plant-based diet?
A: I'd gained a lot of weight from working in the industry. Late nights, long hours, access to indulgent foods, alcohol, etc. Once I moved to Denver, I pledged to live as healthy, happy, and as fully as possible. I found eating plant-based made me feel like the best me and I wanted to share that with everyone who crossed my path. I'm very passionate about creating health and happiness for others any way I can—I found I'm especially good at that through food.
Q: What drove you to focusing on plant-based food in your career? That's a fairly narrow niche for a chef.
A: It's challenging, healthy, and good for the planet. Working with plants opens a whole new realm to the culinary world. It's tough to satisfy someone's hunger with strictly plants but it can be done and done well. I've always strived to be different— one of my biggest fears is to be normal. Plant-based eating is proven to be better for our overall health and it's proven to benefit this beautiful planet we've neglected.
Q: Do you consider yourself an "activist" for the plant-based lifestyle?
A: I do. I want all people to eat more plants. I also realize that it's not realistic for everyone to switch to a plant-based diet at the snap of fingers. There are a lot of factors that go into strictly eating plant-based. We live in a society where convenience is king. My goal is to provide people the ability to cook one plant-based meal a week. Start small and build from there. People soon realize how good eating plant-based makes them feel—it truly is amazing!
Q: What are the top benefits of a plant-based diet?
A: I'll keep it simple. It's good for your body. It's good for the planet. It's good for changing up the broken system of the meat industry.
Q: What is your long-game vision for devoting your talents to plant-based food?
A: My vision is to create as much health and happiness for as many people as possible through plant-based food. I not only want to cook for others but also want to teach and educate people about why plant-based eating can change your life.
Q: How did you develop a global awareness of food from so many different cultures?
I'm a curious person so I find myself constantly trying new cuisine. Once I eat something, it sparks a drive for me to figure out where it's from, the history of the food, the cultural significance, etc. Food is way more connected worldwide than we think. There are a lot of concepts and flavors that cross over many cultures. The uniqueness almost always comes from what is available in certain parts of the world. It's really a beautiful thing, the story of food.
Q: Are you given certain freedoms and opportunities to express yourself at Whole Harvest that you might not find in other food positions?
A: Absolutely. The owners and team at Whole Harvest fully empower me to create what I feel is best for our customers. They are great with giving feedback and constructive criticism while also trusting my professional abilities. I have all the creative freedom I could ever want.
Q: What does Whole Harvest mean to you?
A: Whole Harvest means using the ingredients provided from the land to create health and wellness for our fellow humans.
Interested in starting your plant-based journey? Whole Harvest provides plant-based meals for the whole family. Check out
 

Whole Harvest's meal plan — fresh, plant-based, ready-to-eat meals delivered to your door!