Tofu Scramble with Vegetables (Breakfast Recipe)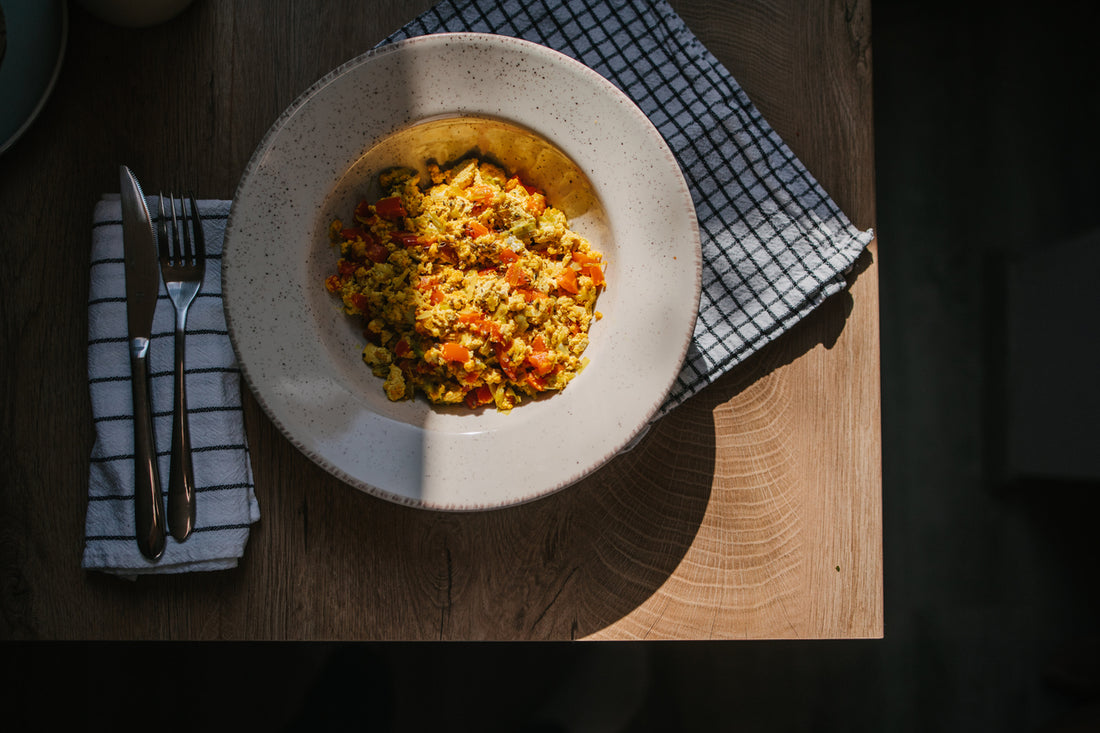 Ready to amp up your morning with a scrumptious explosion of vivid flavors and textures? Say hello to the Tofu Scramble with Vegetables, a plant-tastic breakfast designed to nourish and invigorate!
Whole Harvest Executive Chef Will Harris stirs up a recipe that melds the hearty wholesomeness of tofu with a lively medley of garden-fresh veggies, all impeccably seasoned with a harmony of cozy spices. Piled high on a slice of whole grain toast, this tofu scramble delivers a gratifying and nutrient-rich kick-off to your day.
So, let's raise a fork to a veggie-filled, feel-good breakfast adventure that's perfect for plant-based enthusiasts and flavor-seekers alike!
| | | |
| --- | --- | --- |
|  Prep Time: 10 minutes | Cook Time: 15 minutes | Serves: 2 |
Nutrition Facts (per serving, assuming recipe serves 2):
Calories: 241
Total Fat: 9g
Saturated Fat: 1g
Cholesterol: 0mg
Sodium: 313mg
Total Carbohydrate: 27g
Dietary Fiber: 7g
Sugars: 7g
Protein: 18g
Please note that nutrition facts may vary slightly depending on the specific brands and quantities of ingredients used, as well as the method of preparation.
Ingredients Tofu Scramble with Vegetables

1/2 block of tofu, crumbled
1/2 onion, chopped
1 bell pepper, chopped
1 cup chopped mushrooms
1 clove garlic, minced
1 teaspoon turmeric
1 teaspoon cumin
Salt and black pepper to taste
2 slices of whole grain bread
Instructions Tofu Scramble with Vegetables

Begin by heating a non-stick pan over medium heat. Add the chopped onion, bell pepper, mushrooms, and minced garlic to the pan, sautéing until the vegetables are tender and their flavors meld together in a fragrant harmony.

Crumble the tofu into the pan, combining it with the vegetable mixture. The tofu's mild, silky texture will absorb the flavors of the vegetables and spices, creating a scrumptious, protein-packed base for your scramble.

Introduce the turmeric and cumin to the pan, stirring to evenly distribute the spices throughout the scramble. These spices will infuse the dish with their warm, earthy essence, elevating the flavors and lending a beautiful golden hue to the tofu.

Continue to cook the tofu scramble, allowing the tofu to heat through and develop a light browning, further enhancing the texture and taste of the dish.

As the tofu scramble nears completion, toast two slices of whole grain bread to your desired level of crispiness. The nutty, hearty flavor of the bread will make an excellent foundation for your flavorful scramble.

To serve, spoon the Tofu Scramble with Vegetables generously atop the toasted whole grain bread, creating a visually appealing and irresistibly tasty breakfast masterpiece.
Savor each bite of this delectable Tofu Scramble with Vegetables, and rejoice in the knowledge that you're starting your day with a nutritious, plant-based meal that is as good for your body as it is for your taste buds.
Enjoy!
Want more delicious, whole food plant-based meal recipes?